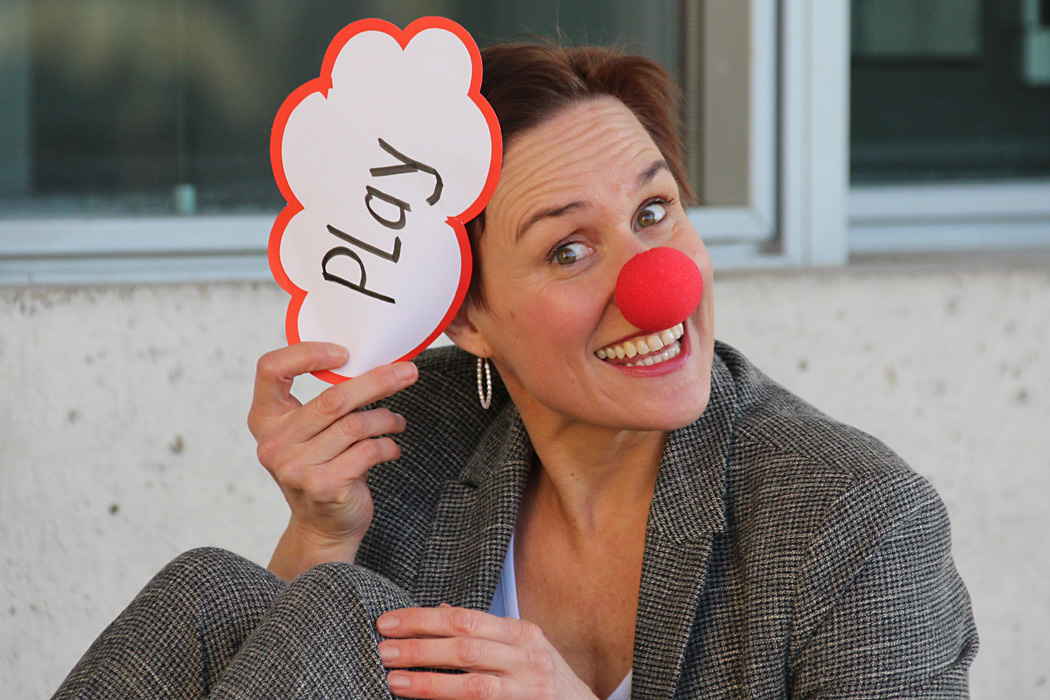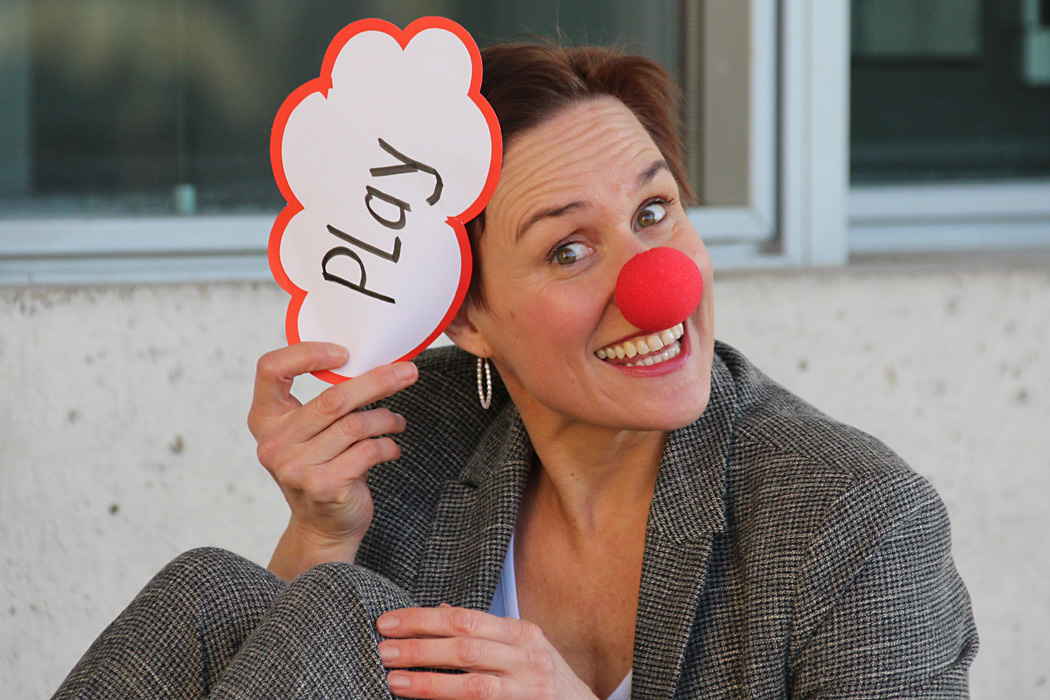 During my humor trainings you will discover your individual "humor fingerprint". By the use of professional tools and methods you will learn how to gradually strengthen your own sense of humor. You will be able to implement humor successfully in your everyday (working) life.

Training/Seminar 1
Humor@Crisis & Change: Humorvoll und inspirierend in Führung gehen
– Erlebnisseminar für die ermutigende Mitarbeiterführung –
Content: Employees in humorous companies are generally more healthy and they identify and commit themselves with their employer above-average. "Laughing" companies attract outstanding professionals and lay the foundation for a top performance. In a creative working atmosphere mistakes are not hidden but accepted on the way to success. During challenging times of change and crisis humorous, authentic leaders can encourage staff-members in an inspiring and motivational way.
Your Benefit: Participants will experience und learn,…
how to create trust and encourage their staff to persist in difficult, dynamic times using positive, social humor.
how to improve creativity by the stimulation of a humorous, positive change in perspective.
how beneficial it is for the relationships between collaborators and colleagues if we occasionally manage to take ourselves less seriously.
how to defuse conflicts by the use of authentic, respectful humor.
how to establish a positive company culture that allows employees to develop their full potential.
Target Audience:
Managers, executives, team leaders, project leaders, personnel developers, management trainees, employees and everybody who wants to learn how to navigate successfully through challenging times of change.
"A good sense of humor starts by taking yourself not so seriously." - H. Hesse

Training/Seminar 2
Humor@Work: Erfolgsfaktor im beruflichen Miteinander
– Humor Training für mehr Energie, Kreativität, Gelassenheit & Freude –
Content: A targeted, well-portioned use of different humor techniques and humor methods can calm us down in difficult situations, motivate and fill people with enthusiasm. By the stimulation of the change of perspective we take a step back and arrive at new, surprising solutions. A humorous, mindful communication improves the interaction between colleagues, superiors, customers and suppliers. When people get the chance to laugh together, they have more fun, joy and are willing to get involved to a higher degree.
Your Benefit: Participants will experience und learn,…
what impact humor can have on their everyday, professional life.
how to implement various humor methods and humor tools effectively and mindfully into their life.
how to release energy and become more creative and flexible by the use of humor.
how to act more calmly and solution-oriented in difficult situations by activating a humorous change of perspective.
how to strengthen the team spirit by humorous interventions.
how to build up their humor potential by practicing and applying several tipps & tricks in their daily interaction at work.
Target Audience:
Teams, project teams, employees and all professionals who want to transform their daily working time into precious living time. Anyone who seeks more joy and serenity at work.
"In every job that must be done, there is an element of fun. Find this element of fun and it becomes a game." - Mary Poppins -

Training/Seminar 3
Humor@Life: Humor als Anti-Stress-Pille in Beruf und Alltag
– Ein Humor-Muskel-Training –
Inhalt
Die Ressource Humor kann uns als wertvolle innere Kraftquelle sowohl in anstrengenden Phasen als auch im täglichen Miteinander wirkungsvoll unterstützen. Der Ansatz beim "Humor Muskel Training" liegt darin, unseren Sinn für Humorin guten Zeiten zu stimulieren und auszubauen. Mithilfe verschiedener Methoden und Techniken können wir im Alltag den Humor entwickeln, der unserer Persönlichkeit entspricht. So gelingt es nach und nach, Humor in Stress- und Konfliktsituationen abzurufen und wirksam einzusetzen.
Your Benefit: Participants will experience und learn,…
how to activate and strengthen their individual humor-capability.
how to loosen up rigid behavior patterns with little changes, verbal humor and unexpected actions.
how to relax their counterpart and defuse situations with the well-portioned and adequate use of humor.
how to take a step back, reframe and find creative solutions in difficult situations.
how to reduce stress by applying different hands-on humor tools.
Target Audience:
Anyone who wants to reduce the stress levels and improve their quality of professional and daily life.
"Geduld und Humor sind zwei Kamele, mit denen man jede Wüste überqueren kann."
~ Arabisches Sprichwort
Content
In  meinen Humor-Trainings und Seminaren erleben die Teilnehmer*innen,
wie eine humorvolle Haltung sie gelassener und erfolgreicher durch den Alltag bringen kann.
Mit Humor gelangen wir in schwierigen Situationen zu neuen Lösungen und werden kreativer und flexibler. Humor wirkt konfliktlösend, teamfördernd und vorbeugend gegen Stress.
Jeder hat Humor bereits in sich. Er  kann aktiviert und gestärkt werden. In meinen Trainings erleben die Teilnehmer*innen, wie sie wirksame Humor-Tools und -Technikenportioniert und zielgerichtet im passenden Moment einsetzen können.
How do we work?
As a certified Humor Trainer/Humor Coach I work with various training methods and techniques. I combine practical exercises and theoretical basics to stimulate the individual sense of humor of my customers (e.g. by creativity techniques, physical exercises, real play, discussion, group work, clowning and the rules of humor, body language). The participants will discover a lot about themselves and their own sense of humor. We will have a lot of fun and have the chance to practice a lot.
Info Workshops
Participants: 8-18 persons (depending on format) Format:live on-site, live online oder live hybrid Languages:German or English Duration:half day/4 hrs., full day/6 hrs., two days, weekly appointments (depending on format) Your investment:upon request Dates: upon request Content:Each seminar/training will be customised to your specialrequests and main topics.

Info Coaching
Humor Coaching
I also offer humor coachings for individuals or small groups.
Please contact me for further information.